My chai recipe
My mom first taught me how to make chai when I was around 10 years old. I would make a fresh cup for her in the afternoons right before she woke from her afternoon naps. An act I once viewed as a chore, the ritual of making chai has now come to be one of my greatest pleasures.
This is the chai recipe I use most consistently to make chai for the people I love.
Sharvari's chai recipe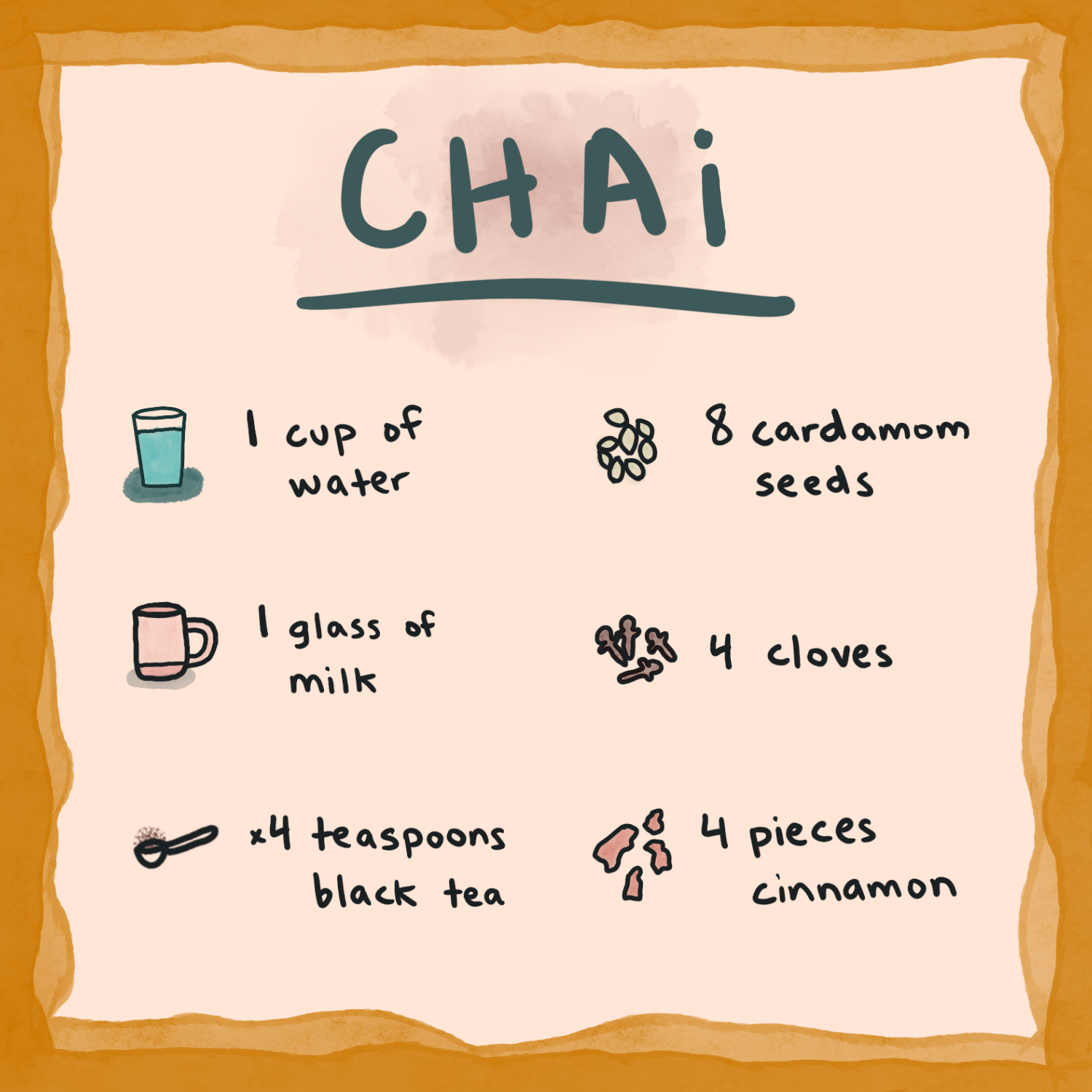 Makes 2 mugs, one for you and one to share.
Ingredients
1 mug-full of water
1 mug-full of whole milk
4 teaspoons of loose-leaf black tea (I love this blend)
8 whole cardamom seeds
4 whole cloves
4 small pieces of a cinnamon stick
Process
Using a mortar and pestle, lightly crush the cardamom, cloves, and cinnamon.
Add the water and spices from the mortar and pestle to a small pot and bring to a boil.
Once at a boil, simmer for 2 minutes.
Add the loose-leaf tea and continue to simmer for 2 more minutes.
Add the milk and now bring everything to a boil.
As soon as the chai boils up to the lip of the pot, lift the pot from the stove to slightly cool and re-settle the chai.
Set the pot back on the stove, and this time turn off the stove once the chai starts to boil up again.
Use a fine mesh strainer to strain ingredients while pouring the chai into 2 mugs.
Variations
Chai is so fun to experiment with because the end result will always taste delicious. Don't be afraid to switch out ingredients based on your mood or the season. For example, my partner loves lemongrass and ginger in his chai in the summer and a little nutmeg and orange zest in the winter.